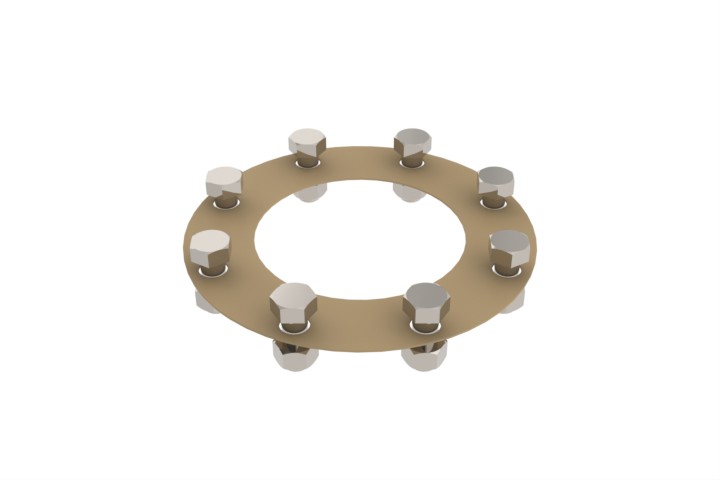 Gasket specs for GT-Silex 47-FF-xxxx and 48-FF-xxxx Gaskets and Gasket kits
Fiber Full Face Gaskets • Temperature Rating: 1800° F
Physical Test Properties Specification Range Nominal Test Values Test Method
Compression @ 34.5 MPa (5000 psi) 25-40% 35% ASTM F-806
Recovery @ 34.5 MPa (5000 psi) 30% Min 34% ASTM F-806
Ignition Loss (1 hour @ 1500° F) 30% Max 27% ASTM F-495
Air Aging 70 hrs @ 540° C (1000° F) Thickness Loss 0-10% 6% ASTM D-573
Air Aging 70 hrs @ 540° C (1000° F) Weight Loss 20% Max 11%
Fluid Immersions (22 hours @ 78° – 85° F)
Fluid Resistance ASTM IRM903 Oil – Thickness Change 12-20% 12% ASTM F-146
Fluid Resistance ASTM IRM903 Oil – Weight Change 70% Max 58% ASTM F-146
Fluid Resistance ASTM Fuel B – Thickness Change 10-20% 15% ASTM F-146
Fluid Resistance ASTM Fuel B – Weight Change 50% Max 45% ASTM F-146
GTE/SILEX full face gaskets use a 0.008″ ETP (electrolytic tin plate) low carbon steel core. The core is then laminated on two sides with a facing composed of heat resistant vermiculite and ceramic fibers chemically bonded with an NBR binder. This gasket is designed for hot gas applications where extreme heat is present. The fiber facings are mechanically bonded without the use of any adhesives, providing stability and integrity even when exposed to high heat, scrubbing, and vibration. Gasket is asbestos free. Its color is light brown.
-Request Additional information on any of our products below-
Sorry, we have reached the maximum number of submissions.